Introduction
A ripped duct of your HVAC system can lessen the energy efficiency of the HVAC system. Repairing torn duct will assist in lowering your utility bill. It is important to call an experienced Duct Repair Maintenance. The money that you will invest is going to give you greater returns every month for several years. Let us learn about the procedure to repair torn HVAC ducts.
What materials will you need for repairing your torn HVAC ductwork?
For repairing of ripped duct, you will need a few easily available materials such as duct mastic (specially designed for HVAC system), a duct tape, a paint brush, a knife, duct mesh, Panduit straps for wire cutters. 
Inspect flex connections
To start off with the procedure to mend your torn ducts, you need to perform a thorough inspection of the area where each duct joins to a vent boot. If you find that this connection has dropped off the collar, you will need to eliminate duct tape and old panduit straps. (You will find these straps on the internal layer and the area surrounding the external layer.)
Pull back the Insulation and External layer
Duct connections that are in a joined state but are seen with tiny air leakage requires that the external layer has to be pulled back to inspect it thoroughly. If the internal layer is attached, then you need to seal its connection using duct mastic. Once you have properly sealed it, you need to again push back the insulation on the wet duct mastic and again connect it with the panduit strap. 
Ripped Flex
This is the commonest strategy used in the repair of damaged ducts. In this method, at the time of installation, small rips are often ignored. With passing time, these tiny tears can turn into larger ones. The external layer on the insulation obstructs flow of vapor. You need to close all rips using a duct tape. End the process by placing a portion of duct seal mesh on the duct tape. Now cover the entire mesh using duct mastic. 
How can a Professional Assistance help in Solution of Leaky Duct? 
Leakage and damage in a duct prevent conditioned air to efficiently cover all the areas of the room. This pushes the HVAC systems to work harder to maintain uniform temperature throughout the house. This not just makes the system less efficient but also increase the monthly electricity consumption. Duct repairing professionals run several tests that helps these expert professionals to determines the location of leakage in the duct.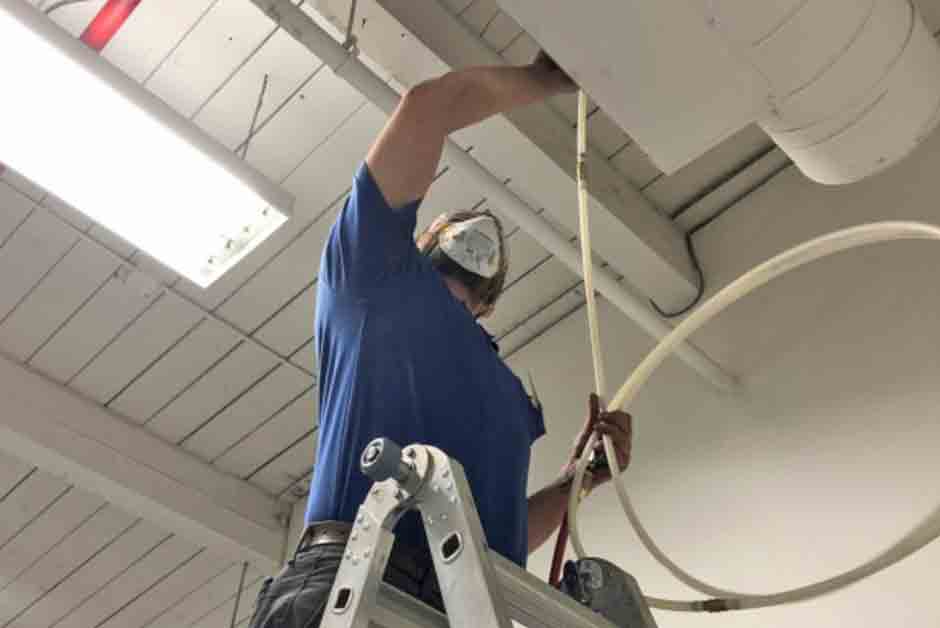 How we can Assist You?
Duct Cleaning Melbourne uses a small-sized fan to pressurize the duct system along with a standardized pressure gauge to measure the leakage of air of the ductwork. This procedure identifies the areas where the air is lost and how much air is lost. Deluxe Duct Cleaning professionals believe in proper identification. It helps in proper resolution of the issue, which in turns help you in keeping your entire HVAC system highly efficient for a long time. 
Read More:- Why Choose Marks Duct Cleaning as Your Commercial HVAC Company?